Community
The DEA Educational Foundation works within the community throughout the year to address the drug epidemic. We collaborate with local partners to facilitate conversations and prevention strategies through sponorships, one-day events, special events, educational seminars and exhibits, and galas and campaigns in the US and throughout the world.
Outreach
Heroes Outpost at LPGA LA Open

For the second year in a row, the DEA Educational Foundation along with Deterra co-sponsored the Heroes Outpost at the 2023 LPGA JM Eagle LA Championship presented by Plastpro. This hospitality tent is a venue for active, reserve, and retired military, along with First Responders, to enjoy premium golf viewing along with complimentary food and non-alcoholic beverages. We are proud of this partnership and look forward to future opportunities.
Health and Wellness Events
The DEA Educational Foundation hosts a number of health and wellness and community education events throughout the year with a youth, teen and family focus on healthy lifestyle, positive alternatives to drug abuse and misuse and critical education on the importance of prevention. These one or multi-day events are often solely led by the DEAEF or in partnership with other organizations, such as DEA's Community Outreach Division. These important community events address the drug epidemic through prevention strategies, facilitating conversations and collaboration with local partners.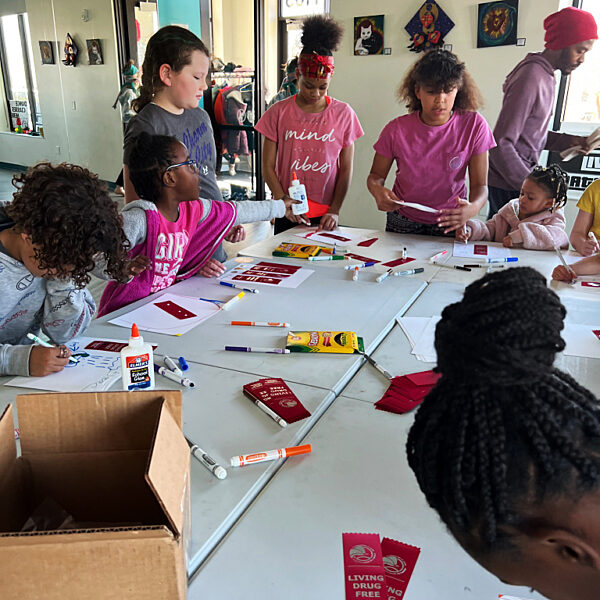 In 2022-2023 alone, the Foundation has led/co-led events through DEA's Operation Engage including three one-day events at youth sites in Spokane, WA, two spring break camps in Kalamazoo, MI, a PSA competition event for teens in Kansas City, etc. The DEAEF has also supported DEA Los Angeles' efforts of multiple Health and Wellness Days with the Sparks and the DEA Philadelphia's Teen Academy. In addition, the Foundation has attended and has set up tents or tables with educational materials at public events such as the LPGA tournaments in Los Angeles, the 10th Annual Prevention Summit, DEA's Cuts and Convo event and more.
Through the above-mentioned community educational efforts, the DEAEF incorporates sports, dance and art for healthy outlet participation, as well as drug abuse and misuse education, "key to your future goal" sessions, DEA presentations and the Red Ribbon pledge all led by impactful mentors.
Educational Events
Seminars
The DEA Educational Foundation continues to actively reach many in the community through our drug abuse and misuse seminars. Some of our partners include Amerigroup, Big Brothers Big Sisters of America, and National League of Youth Men. A typical curriculum includes a State of Union address (DEA Fentanyl Awareness Overview), Scientific Research, Resources, and Special Guest Speaker(s). If you're interested in having us host one of these seminars, please contact us.
Drugs: Costs & Consequences Exhibit
In 2002, the DEA in partnership with the DEA Educational Foundation (DEAEF) launched their first national traveling exhibit, Target America. In 2013, the exhibit was updated and renamed Drugs: Costs & Consequences and is currently on display at the Thronateeska Heritage Center in Albany, GA and will be at the Health Museum in Houston, TX in late September 2023. The DEA Museum installed new and updated hands-on activities and features such as Spanish translations and information on the fentanyl crisis. The exhibit also highlights DEA's "One Pill Can Kill" campaign with photographs of those who lost their lives to a fentanyl related overdose in the Lost Talent section. Guests learned about the science and impact of the illegal drug trade on our bodies, our communities and our world. The exhibit has also been updated to accommodate younger visitors with animated videos on the identification of illegal drugs and the effects on the body.
"Museums are one of the most trusted sources of information in the country," said DEA Museum Director Jan Wrzesinski. "And they are an excellent tool to engage visitors of all ages with important content on the nature of DEA's work, the science and harmful effects of drug misuse, and how individuals and communities can understand the challenges and move forward with hope for the future."
Foundation Galas and Campaigns
The DEA Educational Foundation has held previous Galas honoring individuals with a Lifetime Achievement Award and/or a Global Leadership Award.
DEA Educational Foundation Lifetime Achievement Award
The DEA Educational Foundation Lifetime Achievement Award is presented to an individual who is deemed by the Board of Directors of the Foundation to have made significant and long-term positive contributions in support of drug law enforcement and drug abuse prevention education in the United States.
DEA Educational Foundation Global Leadership Award
The DEA Educational Foundation Global Leadership Award is presented to individuals and/or organizations who are deemed by the Board of Directors of the Foundation to have made significant contributions in support of drug law enforcement and drug abuse prevention education around the world.

Campaigns
The DEA Educational Foundation hosts various campaigns to celebrate the Foundation's impact, acknowledge the continued urgent need to provide to our youth, and thank our amazing supporters! One of our most notable campaigns was the Foundation's 20th Anniversary Celebration, The Stars of Broadway Shine on the DEA Educational Foundation, hosted by Broadway legends Gary Morris (Les Misérables & La Bohéme) and Rema Webb (The Color Purple, The Lion King, The Book of Mormon, etc.). This virtual celebration featured Max Bartos (Sing Street), Alexandra Billings (Wicked), Bryan Cranston (2x Tony Award Winner – All the Way & Network), Danny Gardner (NY Spectacular starring the Rockettes & Dames at Sea), Larry Gatlin (The Will Rogers Follies), Kelli James (Les Misérables), Chrissie Levasseur (Les Misérables), Eric Nelsen (Tony Award Nominee - The Inheritance), Rachel Resheff (Mary Poppins, Billy Elliot: The Musical & Shrek the Musical), Michael James Scott (Aladdin), Emily Skinner (Tony Award Nominee - Side Show, The Cher Show, Prince of Broadway, Billy Elliott & The Full Monty), Elizabeth Stanley (Grammy Award Winner - Jagged Little Pill), and Rena Strober (Les Misérables) and many more.
International Impact
Drug Court Symposium

In April of 2018, DEAEF Chairman Bill Alden and board member Michael Yamaki traveled to Taipei, Taiwan to attend the Taipei Drug Court Symposium to Explore Drug Court and Multiple Intervention Programs. Also in attendance were Carson Fox, CEO of the National Association of Drug Court Professionals (NADCP), and Judge Christine Carpenter who is a NADCP trainer and a retired Missouri Circuit Court Judge. The purpose of the symposium was to expose Taiwanese prosecutors, judges, and other government officials to the US Drug Court System in hopes that it would spark interest and eventually adoption in Taiwan.

In June of 2019, DEAEF Chairman Bill Alden and board member Tom Harrigan traveled to Taipei to attend the second Taipei Drug Court Symposium. This symposium was attended by more than 200 Taiwanese officials that included political leaders from both the Justice and Health Ministries along with many local prosecutors and representatives from the American Institute for Taiwan. Carson Fox and Judge Christine Carpenter made presentations to the group. The purpose of this second symposium was to leverage the momentum that had been created the year prior. There were requests for additional information and assistance about how to set up a drug court.
COVID forced the cancellation of the third symposium but interest did not wane. DEAEF board member Tom Harrigan traveled to Taipei in April of 2023 to rebuild the momentum and help Taiwanese officials in furthering the process of getting drug courts set up in their country.

These symposiums are co-sponsored by the CTBC Anti-Drug Educational Foundation and the DEAEF.